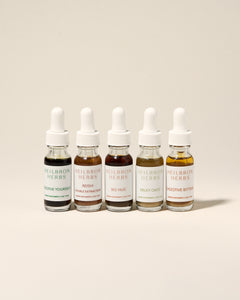 Heilbron Herbs
Mini Tincture Set
Five of our tried and true tinctures in .5 oz sizes - perfect if you're new to tinctures, for carrying on-the-go, or trying a little of each while you find your favorite. Add them to tea, sparkling water, or directly on your tongue - whatever suits you best! Always carefully sourced from small US farms and made in Appalachia.
This set makes a perfect gift for yourself, or someone you love. Gift wrapped with a cute ribbon and an info card. 
Includes:
Milky Oats - tonic stress support: the perfect food for the nervous system
Big Hug - emotional support: grounding, uplifting, empowering, nourishing and fiercely, unconditionally loving
Soothe Yourself - support for a peaceful feeling: calming, relaxing, and nourishing for a anxious, overworked, or stressed mind and body 
Reishi - tonic immune and stress support from our favorite fungi
Digestive Bitters - daily support for digestion and healthy liver function
Some of these items are contraindicated for pregnant people or those with bi-polar disorder
The statements have not been evaluated by the FDA. This product does not intend to treat, diagnose, cure, or prevent any disease. 
---
More from this collection