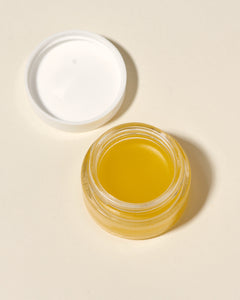 Heilbron Herbs x Nine Flowers
Lustre Restorative Face Balm
Lustre Restorative Face Balm is a deeply nourishing waterless moisturizer to seal in hydration and provide added skin protection. Botanical extracts of chrysanthemum, celosia, marshmallow and astragalus are infused in the highest quality blend of oils to support tissue repair, soothe and hydrate, and cool and calm heat to settle redness and minor breakouts. Raspberry and cranberry seed oils offer protection from free radical damage, and Appalachian beeswax helps to create a protective barrier for the skin. A daily moisturizer for dry and sensitive skin types - a favorite for exposure to the elements during harsher seasons.
To use: Apply a very small amount of balm to clean, damp skin, after moisturizing with face oil. Focus on areas that are dry or need extra protection from the elements. 
Jojoba oil, sunflower oil, macadamia nut oil, raspberry seed oil, cranberry seed oil, beeswax, whole plant extracts of chrysanthemum, celosia, marshmallow and astragalus
Lustre Face Balm is a collaboration between Heilbron Herbs founder Saralyn Bellmer and Ally Mahoney of Nine Flowers Acupuncture and Holistic Dermatology. Together we've created a line of skincare that highlights the healing power of organic whole plant extracts. Our products are free of preservatives, additives, and chemicals. The creation of this line reflects our deep commitment to sustainable herbal products that are as good for our bodies as they are for the planet. Every single leaf, root, seed, and oil that goes into our products is grown organically (or with organic practices) and processed in North America. All of the plants we use are lovingly grown on small farms in the US, and all of our base oils are sourced through a direct connection with an American producer. 
---
More from this collection