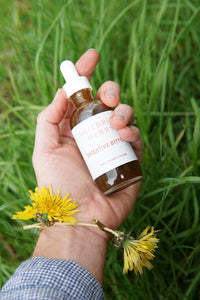 The Evolutionary Role of Bitters  Did you know that the bitter taste and liver function are intimately tied and rooted in our evolutionary process? Research shows that roughly 200 million years ago our capacity to sense bitterness became embedded in our gene coding. This was likely due to the fact that many poisonous plant toxins are bitter. Humans and other animals that developed bitter taste receptors were better able to discern whether something was safe to eat or not and therefore had an evolutionary advantage over those that did not.  As some of you may already know from personal experience...
---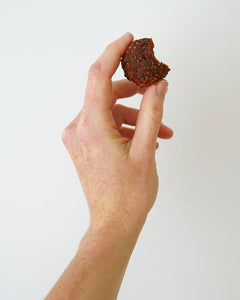 Ashwagandha is a calming adaptogen that supports our stress response and is especially recommended for those who experience agitation, nervousness, or sleeplessness. It gets its name from Sanskrit words that can be translated as essence of a horse,  which we think is a beautiful summary of the root's energy. Considered to promote a youthful state for both physical and mental health, it is a beautiful tonic that benefits many systems and is suitable for all ages. The flavor is delicately sweet, hay-like, round, creamy, and a bit bitter. While we believe that powdered ashwagandha is a great form of this herb - and the best way to take advantage...
---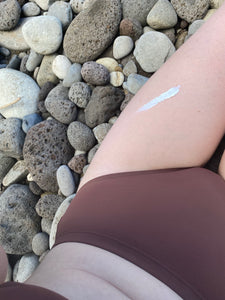 Sunscreen Demystified We've been getting a lot of questions about sunscreen. For good reason - even in 2022 sunscreen remains one of the toughest products to get right: UV-absorbing chemicals used in a vast majority of sunscreens contain ingredients that are endocrine disruptors, marine toxins, or even carcinogenic. Moreover, that spray sunscreen that goes on so easily? Sadly, it's even worse: the airborne particulate can easily enter the respiratory system and largely misses the body - becoming a greater environmental hazard.  There are safe and effective alternatives, however, and new research is showing more promising options for the future. We...
---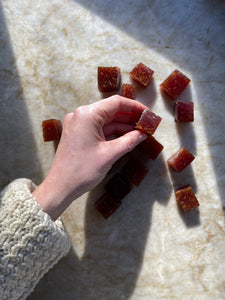 Jellies, or gummies, are a fun and tasty way to take herbs, for adults and kids alike! Using elderberry syrup, any fruit juice you like (tart, fresh-squeezed citrus worked really well here), gelatin powder (sub agar agar for a plant based version) and whatever daily tincture you're trying to incorporate into your routine - I used Reishi Extract for its immune balancing effects but any tincture in our line would be great to use here. Recipe makes about 15-20 gummies1/2 c water2.5 Tbs gelatin powder or agar agar 1/2 c fruit juice + optional zest2 Tbs tincture or about 15-20 doses1/2 to...